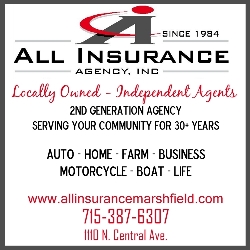 This story is sponsored by: All Insurance of Marshfield
MarshfieldAreaSports.com
MADISON – Kimberly won its fifth-straight state championship and Amherst captured its third Division 5 title in a row at the 2017 WIAA State Football Championships, which were held Nov. 16-17 at Camp Randall Stadium on the campus of the University of Wisconsin.
Kimberly completed its fifth-straight undefeated season, running its winning streak to a state-record 70 games, with a 27-7 victory over Sun Prairie in the Division 1 championship game Nov. 17.
The Papermakers (14-0) trailed 7-0 in the first quarter before holding Sun Prairie scoreless the rest of the way and scoring 20 unanswered points in the second half to pull away. Senior running back D.J. Stewart, the state Offensive Player of the Year and a North Dakota State University recruit, rushed for 189 yards and two touchdowns to lead the way for Kimberly.
Kimberly won the Division 2 title in 2013 and has now won four Division 1 titles in a row.
Amherst (13-1) won the Division 5 championship game for a third-straight season and the fourth time in six years after topping Lake Country Lutheran (13-1) 28-21 on Nov. 16.
Senior quarterback Marcus Glodowski ran for 279 yards and scored all four touchdowns for the Falcons. Josh Rieck added 119 yards on the ground as Amherst rushed for 415 yards, while holding LCL to just 81.
In other title games Nov. 16, Bangor (14-0) routed Black Hawk (13-1) 37-14 in Division 7; Fond du Lac Springs (14-0) whipped Iola-Scandinavia (11-3) 35-12 in Division 6; and Lodi (14-0) edged St. Croix Central (12-2) 17-10 in overtime to win the Division 4 championship game.
On Nov. 17, Rice Lake (11-2) cruised past New Berlin Eisenhower (13-1) 25-3 in Division 3, and Waunakee (14-0) slipped past Brookfield Central (13-1) 14-13 in Division 2 on two fourth-quarter touchdowns.
Rice Lake won its second state title, and first since 1979; Waunakee captured its sixth state title (1999, 202, 2009, 2010, 2011); Bangor won the D-7 title for the second time in three years; and St. Mary's Springs tallied its seventh state title since 2002, and fifth in the past seven seasons.
2017 WIAA State Football Championships
Thursday, Nov. 16, and Friday, Nov. 17
At Camp Randall Stadium, Madison
Thursday, Nov. 16
Division 7: Bangor (14-0) 37, Black Hawk (13-1) 14 Stats
Division 6: Fond du Lac St. Mary's Springs (14-0) 35, Iola-Scandinavia (11-3) 12 Stats
Division 5: Amherst (13-1) 28, Lake Country Lutheran (13-1) 21 Stats
Division 4: Lodi (14-0) 17, St. Croix Central (12-2) 10 (OT) Stats
Friday, Nov. 17
Division 3: Rice Lake (11-2) 25, New Berlin Eisenhower (13-1) 3 Stats
Division 2: Waunakee (14-0) 14, Brookfield Central (13-1) 13 Stats
Division 1: Kimberly (14-0) 27, Sun Prairie (13-1) 7 Stats