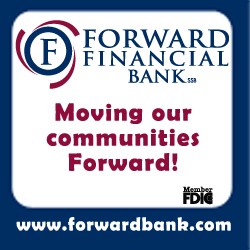 This story is sponsored by Forward Financial Bank
MarshfieldAreaSports.com
MARSHFIELD – A total of 246 runners from kindergarten through sixth grade competed in the annual Marshfield Elementary School One-Mile Fun Run on Tuesday at Wildwood Park.
Taylor Barwick, a fifth-grader at Washington Elementary School, won the girls race in 7 minutes, 14 seconds. A total of 132 girls participated in the race around the Upper Pond at Wildwood Park.
Michaela Dick of Lincoln Elementary School, a third-grader, was second in 7:17 and Delhia Kilty, a fifth-grader at Grant Elementary School, was third in 7:31.
A total of 114 boys ran as well, with Addison Hill, a sixth-grader at Our Lady of Peace School, won in 6:16. Tom Nystrom, a sixth-grader at OLP, was second in 6:26, with Sam Hinson, a sixth-grader at Grant third in 6:53.
The Fun Run was sponsored by the Marshfield High School cross country teams and coach Dan Akin. Many members of the team ran alongside the elementary school students during the two races.
Here is a list of the top 25 finishers in the girls and boys races, with schools, grades and times. Some names have been omitted or are incomplete due to clerical errors or incomplete information provided.
Boys Results
1 Addison Hill, Our Lady of Peace, sixth, 6:16
2 Tom Nystrom, OLP, sixth, 6:24
3 Sam Hinson, Grant, sixth, 6:53
4 Blake Bennington, Washington, fifth, 6:54
5 Emmett Meissner, Nasonville, sixth, 6:55
6 Cade Swanson, Grant, fifth, 6:56
7 Peter Earll, Washington, fifth, 7:01
8 Peyton Scheuer, Nasonville, sixth, 7:02
9 Kyle Tremelling, Washington, sixth, 7:03
10 Logan Homolka, Washington, fifth, 7:05
11 Adam Zee, Nasonville, fifth, 7:05
12 Jake Kildahl, Grant, sixth, 7:05
13 Dylan Riemer, Lincoln, third, 7:06
14 Logan Mechler, Washington, fourth, 7:07
15 Will S., OLP, fifth, 7:11
16 Isaac Meverden, Grant, sixth, 7:12
17 Benntt Koehn, Washington, sixth, 7:13
18 Ben C., Washington, sixth, 7:14
19 Mark F., OLP, fourth, 7:16
20 Chase Hinson, Grant, fourth, 7:22
21 Michael Dick, Lincoln, third, 7:25
22 James Ketterer, Madison, fourth, 7:28
23 Tyler Linzmerier Carter, OLP, fifth, 7:29
24 Brock Bennington, Washington, fourth, 7:30
25 Tanner Karau, Grant, fifth, 7:37
Girls Results
1 Taylor Barwick, Washington, fifth, 7:14
2 Michaela Dick, Lincoln, third, 7:17
3 Delhia Kilty, Grant, fifth, 7:31
4 Caelleigh Kanitz, Washington, second, 7:46
5 No name provided, 7:47
6 Minh Tyler, Grant, sixth, 7:51
7 Madelyn Swanson, Grant, sixth, 7:52
8 Maddie Michaelis, Grant, fifth, 7:52
9 Janelle Haupt, OLP, fourth, 8:03
10 Emil S., Immanuel Lutheran, fourth, 8:14
11 Alani, Washington, fifth, 8:15
12 Leah Brown, Grant, fifth, 8:16
13 Katie Weiler, OLP, fourth, 8:17
14 No name provided, 8:20
15 Mattea Schlafke, Grant, sixth, 8:22
16 Eliana Kanitz, Washington, fourth, 8:26
17 Kaylee Johnson, Grant, sixth, 8:31
18 Alyssa F., Lincoln, fifth, 8:31
19 Abigail Adler, Washington, third, 8:35
20 Quincy Lang, Grant, fifth, 8:35
21 Trinity, OLP, third, 8:49
22 Hope Risa, Washington, fifth, 8:50
23 Sydney Ott, Grant, fourth, 8:51
24 Faith Risa, Washington, third, 8:55
25 Greta S., Columbus, sixth, 8:59