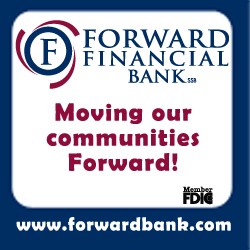 This story is sponsored by Forward Financial Bank
By Paul Lecker
MarshfieldAreaSports.com
MARSHFIELD – The Marshfield girls basketball team had a tough time taking care of the ball early and Hortonville took full advantage.
The Tigers committed 11 turnovers in the opening 11½ minutes as Hortonville built a 19-point lead and Marshfield couldn't recover, falling 63-47 in the season opener for both teams Thursday night at the Boson Company Fieldhouse at Marshfield High School.
Hortonville used a 22-6 run during an eight-minute stretch to push an 8-5 lead into a 30-11 advantage.
The Polar Bears hit four 3-pointers in the run, two from senior guard Shay Frederick, who scored 22 of her game-high 29 points in the first half.
"Turnovers hurt us, obviously," Marshfield coach Heidi Michaelis said. "That's a good of a team as we're going to see. We knew that coming in, that's a hard first test. My big thing was to battle the entire game, which I think we did, and there are things that we did very well. Turnovers are going to be our nemesis, it feels like every year we talk about that, but we're going to get better."
Marshfield clawed back, cutting the deficit to 32-22 after a 3-pointer from Meg Bryan and a basket by Hannah Meverden, before Frederick hit two more 3-pointers and Hortonville took a 41-27 lead into halftime.
Marshfield closed to within 11 after a basket from Jenna Jakobi early in the second half, but didn't score for the next 5:45 and Hortonville built its lead back up to 19 at 50-31.
The Polar Bears led by at least 14 the rest of the way.
Bryan led the Tigers with 14 points, and Corianne Johnson and Meverden each added 10 in the loss. Marshfield finished with 22 turnovers in all, and only 14 made field goals.
"I'm going to take away the good things that I saw and definitely work on the things we need to work on," Michaelis said. "I'm going to continue to harp on taking care of the ball. The ball has to be valued more, and I think we will as we go on."
Michaels added that she sees promise in her team, which includes six returning players and three others who are new to varsity action.
"If we can score with that team, and play with a team of that caliber, down the road, that's our goal," she said. "We could have folded in the first half and gone completely away, but we chipped away and had a chance to get it into single digits before halftime.
"People will see the score and say they got beat up, but we learned a lot about ourselves and what we have to do. More than anything, I want these kids to battle. We have a lot of different parts that are going to get better."
Marshfield returns to action Tuesday with a nonconference game at Rhinelander.
Polar Bears 63, Tigers 47
Hortonville 41 22 – 63
Marshfield 27 20 – 47
HORTONVILLE (63): Aliyah Schmidt 0-2 0-0 0, Shay Frederick 9-16 5-6 29, Hailey Wenzel 3-7 2-2 8, Morgan Draheim 1-1 0-0 3, Macy McGlone 3-10 2-6 8, Lexi Walter 2-4 0-0 4, Emily Nelson 2-7 0-0 5, Makenna Paltzer 0-2 1-3 1, Lexi Day 2-5 0-0 4. FG: 22-54. FT: 10-17. 3-pointers: 9-24 (Frederick 6-12, Draheim 1-1, Day 1-2, Nelson 1-6, Paltzer 0-1, Schmidt 0-1, Walter 0-1). Rebounds: 30 (McGlone 7, Frederick 7). Turnovers: 13. Fouls: 21. Fouled out: none. Record: 1-0.
MARSHFIELD (47): Kaydee Johnson 1-2 0-0 2, Meg Bryan 4-10 3-7 14, Maddie Michaelis 1-3 0-0 3, Desirae Weisenberger 0-3 0-0 0, Hannah Meverden 3-6 4-7 10, Corianne Johnson 2-4 4-4 10, Sophie Koehn 0-0 0-0 0, Jenna Jakobi 3-9 2-4 8. FG: 14-37. FT: 13-22. 3-pointers: 6-14 (Bryan 3-8, C. Johnson 2-4, Michaelis 1-2). Rebounds: 28 (Meverden 7). Turnovers: 22. Fouls: 14. Fouled out: Weisenberger. Record: 0-1.