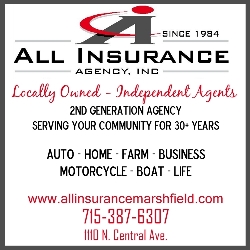 This story is sponsored by: All Insurance of Marshfield
MarshfieldAreaSports.com
LA CROSSE – Spencer senior Johanna Ellefson repeated as the state champion in the Division 3 pole vault and the Auburndale girls 1,600-meter relay team also earned gold at the second day of the 2017 WIAA State Track & Field Championships on Saturday at the University of Wisconsin-La Crosse.
The two gold medals were among five state medals won by local athletes Saturday.
Ellefson won the girls pole vault by clearing the same height she did in 2016 – 11 feet even – to earn her second state gold medal. Her teammate, freshman Hannah Zastrow, placed ninth in the event with a best of 9 feet, 6 inches. She is the first two-time state track champion in Spencer's history.
Hannah's brother, Spencer senior Noah Zastrow, earned a pair of medals with top-six finishes. He was fourth in the Division 3 boys long jump with a leap of 20 feet, 11¾ inches, and placed sixth in the 300-meter hurdles with a time of 40.58 seconds. Those two medals go along with a gold he won Friday by taking first in the pole vault with a vault of 15-4.
Noah Zastrow came close to earning a fourth medal at state as he placed seventh in the 110-meter hurdles, finishing in 16.21 seconds, just 0.14 of a second behind the sixth-place finisher.
"The Spencer High School track athletes worked very hard to get to state," Spencer coach Brian Pickett said. "The dedication they had all year inspired the whole track team to new heights, leading by example.
"Overall, every member of our boys and girls teams did their best each day, and we are incredibly proud of them all. The parents' support for the track program and being at the meets for support was wonderful. It was a big part in our athletes doing well during the season and at state."
The Auburndale girls 1,600 relay team of Isabella Jewell, Rachel Gronemeyer, Kali Karl and Isabelle Hilber led for most of the way to take gold in the event, finishing in 4:04.34, 0.69 of a second ahead of second-place Oshkosh Lourdes.
"The Auburndale girls track team has had a remarkable year," Auburndale coach Brian Swenson said. "Going into the season I knew it was going to be special. The team had strong leadership in the junior and senior classes and a good work ethic from top to bottom.
"The state meet was the first time we have felt summer like weather, but our girls were focused and prepared. The girls on the 1,600 relay each did their part and it led to amazing results. It was a great race to watch and we are all still smiling."
Spencer senior Max Johnson also picked up a medal in the Division 3 boys shot put. Johnson, who was ninth at state last year, finished fourth with a throw of 51 feet, 9¼ inches. Johnson's teammate, sophomore Logan Zschernitz was eighth in the event with a toss of 49-½, 7¼ inches off a sixth-place finish.
Marshfield's lone two girls state qualifiers competed in the Division 1 long jump on Saturday morning. Junior Meg Bryan finished 20th with a jump of 16 feet, 6 inches, and freshman Gracie Holland was 24th with a leap of 15-6. It was the first state meet for both athletes.
Spencer also had a pair of girls relay teams run on Saturday, but neither earned a medal.
The Rockets' 800 relay of Lauren Faber, Liz Endreas, Delaney Eichman and Kaily Northup was eighth in 1:50.09, and the 400 team of Eichman, Northup, Zastrow and Ellefson took ninth in 51.94, just 4/10 of a second out of the final medal spot of sixth.
For complete state results, click this link to visit wiaawi.org.
For more photos from Saturday's events at the state track meet, courtesy of Don Patterson, click this link.
For photos from Friday's events at the state track meet, courtesy of Don Patterson, click this link.