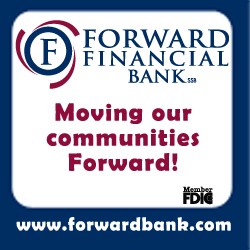 This story is sponsored by Forward Financial Bank
MarshfieldAreaSports.com
MADISON – The University of Wisconsin-Marshfield/Wood County women's tennis team finished second and the men took fourth at the Wisconsin Junior College Tennis Tournament on Friday and Saturday.
UW-Fox Valley won both the women's and men's titles.
Kelsey Fierke won the No. 3 women's singles championship and teamed with Emma Easterly to take first at No. 2 doubles for the Marauders. Bekah Wood was second at No. 4 singles.
Nikki Hertel won her first match at No. 1 singles before suffering an Achilles heel injury in her second match. Abby Gotz also won one match at No. 2 singles.
Tim Resheske won the No. 6 singles title for the UW-Marshfield men.
Mike Schneider won the consolation bracket at No. 4 singles and all of the other Marauders won at least one match. Carter Havican, Brian Brost, Tyler Langreck and Mike Solberg won one match in singles, and Havican-Brost at No. 1 doubles and Solberg-Resheske at No. 3 doubles also won a match.