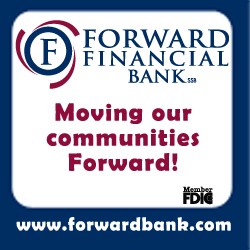 This story is sponsored by Forward Financial Bank
By Paul Lecker
MarshfieldAreaSports.com
MARSHFIELD – The Marshfield volleyball team got off to a great start in its WIAA Division 1 regional final match with Merrill.
However, an injury forced the Tigers' top hitter, Courtney Bauer, off the court and Merrill surged to a 3-1 win on Saturday night at Marshfield High School.
The Bluejays won 21-25, 25-18, 25-22, 25-21, to advance to Thursday's Division 1 sectional semifinal vs. No. 1 seed Chippewa Falls at Wausau West.
Early in the Game 2, after the Tigers ruled the opening game, Bauer went out with an injury and came back to the end with a wrap around her left knee. She didn't return and Marshfield struggled for consistent big hitting from its front line.
Merrill pulled away midway through the second game, turning a 16-14 lead into a 22-15 advantage with a run of five straight points, four on the serve of Lauren Hojan. The Bluejays closed it out on an ace by Morgan Marnholtz.
Marshfield regrouped in the third game and scored six straight points on a sideout and the serve of Jordan Green, who replaced Bauer in the lineup. An ace gave the Tigers a 15-14 lead, but Merrill scored nine of the next 14 points and finished off a 25-20 win.
The fourth game was also tight until late when the Bluejays pulled away again.
Marshfield closed to within 23-20 on a kill by Natalie Zuelke, one of three straight by the Tigers' junior. The Tigers couldn't get closer and fell 25-21.
Zuelke and freshman Stephanie Rhodes each had 11 kills to lead Marshfield. Sara Dasler had 18 assists and Leah Ripp added 16. Seniors Darian Molter (28) and Chelsea Akin (15) topped the Tigers in digs.
Seniors Molter, Akin, Bauer and Miranda Forrest played their final match for Marshfield.