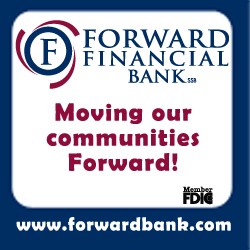 This story is sponsored by Forward Financial Bank
MarshfieldAreaSports.com
MARSHFIELD – The year of the walk-off continues for the Marshfield baseball team.
The Tigers won in their last at-bat again at home Thursday, coming back from two runs down to beat Menomonie 3-2 in a WIAA Division 1 baseball regional final at Jack Hackman Field.
Marshfield (15-12) will play Hudson (15-8) in a sectional semifinal at 1:30 p.m. Tuesday at Chippewa Falls. Chippewa Falls (15-9) hosts Stevens Point (19-6) in the first semifinal at 11 a.m. The winners will play at 4 p.m. for a berth in the WIAA State Baseball Tournament in Appleton on June 12-14.
Menomonie led 2-0 after three innings and its starting pitcher, Neico Stokke, didn't allow a hit in four innings of work before he had to be replaced because of an innings limit (he pitched in the Mustangs' semifinal win Tuesday).
The Tigers got to reliever Drew Otto with a run in the fifth on a bases-loaded walk by Bo Howard.
Jordan Litwatis' sacrifice fly in the sixth plated Jeren Hiller, who had singled earlier in the inning, and tied the game.
In the seventh, Elliot Ashbeck led off the inning with a double, and after an intentional walk, a sacrifice by Nick Treankler and another intentional walk, Luke Wirtz hit a grounder to the shortstop. Menomonie attempted to turn a double play to end the inning, but Wirtz beat the throw to first and Ashbeck scored to win it for the Tigers.
Ashbeck went the distance on the mound for Marshfield, striking out seven and walking one. He allowed just five hits and the two early runs.
"We needed to play small ball today when things weren't gelling," Marshfield coach Mark Zee said. "I have to give credit to Elliot for keeping it close.
"We're excited to play Hudson, a new team that we haven't played before."
Tigers 3, Mustangs 2
Menomonie 101 000 0 – 2 5 2
Marshfield 000 011 1 – 3 3 0
WP: Elliot Ashbeck. LP: Mitch Stai.
SO: Neico Stokke 2, Drew Otto 0, Stai 0; Ashbeck 7. BB: Stokke 5, Otto 3, Stai 0; Ashbeck 1.
Records: Menomonie 8-16; Marshfield 15-12.