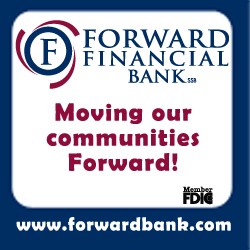 This story is sponsored by Forward Financial Bank
MarshfieldAreaSports.com
LA CROSSE – Stratford grabbed a pair of medals and Auburndale also snagged one at the first day of the 2013 WIAA State Track and Field Championships at the University of Wisconsin-La Crosse on Friday.
Stratford's Abby Bender placed fifth in the girls high jump and Eli Temanson was fourth in the boys pole vault to earn Division 3 medals for the Tigers on Friday.
Bender had a jump of 5 feet to finish fifth, three inches behind D-3 state champion Haley Hazlett of Wild Rose.
Temanson had a vault of 12-6 to take fourth in the D-3 boys pole vault. Jake Widemeier of Crivitz won the event with a vault of 14-0.
Temanson also moved on to Saturday's finals in the 200 meters after placing fifth in the preliminaries on Friday. Temanson ran in a time of 23.30 seconds.
Auburndale's Syviann Momont medaled in the Division 3 girls long jump, taking fifth with a leap of 16-11.25. Jenna Ladsten of Blair-Taylor won the event with a jump of 18-4.
Also competing for the Stratford boys were a pair of relay teams and Jacob Zuelke.
Zuelke missed out on a medal, taking ninth in the 3,200 meters in a time of 10:17.38. Darin Lau of Eau Claire Immanuel Lutheran won the race in 9:41.92.
The Tigers' 800 relay team of Tate Tichy, Phil Sersch, Temanson and Kellen Bornbach qualified for Saturday's finals, taking eighth in the prelims in 1:36.03. The top 10 qualified for the finals.
The 400 relay team of Hunter Kauffman, Temanson, Sersch and Jack Dahlstrom wasn't as lucky, taking 11th in 46.07 seconds. The team missed out on a finals berth by just 0.37 seconds.
Both Stratford girls relays teams that ran on Friday in prelims qualified for finals.
The 1,600 relay team of Brooke Schultze, Bender, Emily Hauke and Sadia Spaeth took fourth in 4:13.68, and the 800 relay team of Schultze, Bender, Tiana Hughes and Hauke was fourth in 1:48.86.
Marshfield Columbus Catholic and Auburndale also competed in the 800 relay. The Columbus team of Alexandra Hutchison, Rachel Roehl, Hannah Stratman and Kayla Selz finished fifth in 1:49.50 to qualify for finals, while the Auburndale team of Lakisha Sutton, Josie Stoflet, Momont and Emma Steines just missed out, taking 11th in 1:51.84. The Apaches missed a qualifying spot by 3/10 of a second.
Selz also competed in the girls long jump and the 400 relay for Columbus Catholic. She finished 13th with a jump of 15-7.25.
The Dons' 400 relay team of Hutchison, Roehl, Stratman and Selz qualified for Saturday's finals, taking ninth in prelims with a time of 52.50 seconds.
Three Stratford girls competed in individual events on Friday and didn't earn a medal.
Freshman Johnelle Miner took 17th in the 800 meters (2:33.36), MacKenzie Hannah was 11th in the shot put (34-2) and Nadia King took 14th in the 1,600 (5:44.55).
Compete results are available at pttiming.com.