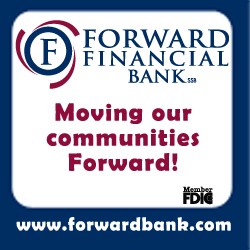 This story is sponsored by Forward Financial Bank
MarshfieldAreaSports.com
NEILLSVILLE – Spencer/Columbus Catholic won eight of the final nine matches to pull past Neillsville/Greenwood/Loyal 48-24 in the season-opener for both teams on Friday night at Neillsville High School.
Neillsville/Greenwood/Loyal raced out to a 21-6 lead after winning four of the first five matches, including three by pin. Carson Hildebrandt had the Rockets' points on a pin at 170 pounds.
Spencer/Columbus got things rolling at 220 pounds where defending Division 2 state champion Hunter Luepke pinned Tanner Zschernitz in 1:42.
Logan Zschernitz followed that with a pin in just 19 seconds at 285 pounds, and the Rockets won two matches by forfeit wrapped around a pin from Ashton Ackman at 113.
Jake Dick added a pin at 126, and Colten Schillinger (138) and Bryce Shaw (145) closed out the win for Spencer/Columbus with decisions.
Spencer/Columbus will compete at the Wausau West Invitational on Saturday.
Spencer/Columbus 48, Neillsville/Greenwood/Loyal 24
152: Sayer Rachu (NGL) pinned Andres Rodriguez, 3:26.
160: Zach Smith (NGL) def. Caden Schillinger 7-5.
170: Carson Hildebrandt (SC) pinned Jesse Buchanan, 3:54.
182: Stephen Buchanan (NGL) pinned Tanner Kleinschmidt, 0:31.
195: Lucas Ingold (NGL) pinned Daniel Richmond in 0:50.
220: Hunter Luepke (SC) pinned Tanner Zschernitz, 1:42.
285: Logan Zschernitz (SC) pinned Jacob Baumgartner in 0:19.
106: Kellen Delaney (SC) won by forfeit.
113: Ashton Ackman (SC) pinned Kaden Horn, 2:20.
120: Dominick Wichlacz (SC) won forfeit.
126: Jake Dick (SC) pinned Morgan Bethea, 1:20.
132: Nathan Buchanan (NGL) def. Taylor Bach, 6-4.
138: Colten Schillinger (SC) def. Mason Malm, 10-5.
145: Bryce Shaw (SC) def. Dylan Nielsen, 4-2.