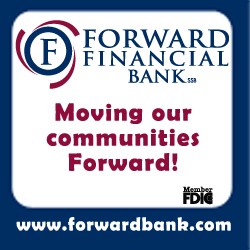 This story is sponsored by Forward Financial Bank
MarshfieldAreaSports.com
COLBY – Haley Voelker scored 19 points to lead Colby to a 58-40 victory over Marshfield Columbus Catholic in a Cloverbelt Conference East Division girls basketball game Tuesday night at Colby High School.
With the win, Colby remains in first place in the Cloverbelt East, improving to 10-2 overall and 8-1 in conference play. The Hornets' only conference loss came at Columbus Catholic back in November. Columbus Catholic drops to 8-4 and 5-3 in the Cloverbelt East.
The Dons were held to just 11 made baskets in the loss.
Marissa Immerfall led Columbus with 11 points, making 7 of 9 free throws, and Hailey Roehl added nine points.
Columbus plays at Spencer on Friday.
Hornets 58, Dons 40
Columbus Catholic 16 24 – 40
Colby 27 31 – 58
COLUMBUS CATHOLIC (40): Annie Baierl 0 0-0 0, Annika Brown 0 0-0 0 0, Morgan Albrecht 2 0-0 6, Hailey Roehl 3 3-4 9, Maren Seefluth 1 0-1 2, Addison Baierl 1 2-2 4, Katie Hall 2 3-6 8, Zoe Stratman 0 0-0 0, Marissa Immerfall 2 7-9 11. FG: 11. FT: 15-22. 3-pointers: 3 (Albrecht 2, Hall 1). Fouls: 14. Fouled out: none. Record:
COLBY (58): Haley Voelker 8 3-4 19, Morgan Geiger 1 0-0 2, Carley Elmhorst 3 1-2 9, Mackenzie Seemann 0 0-0 0, Vanessa Lopez 2 0-0 4, Ashley Streveler 4 2-2 11, Alyssa Underwood 4 0-1 9, Heather Lynn 0 0-0 0, Megan Underwood 1 2-2 4, Cynthia Leis 0 0-0 0, Rachel Schmidt 0 0-0 0. FG: 23. FT: 8-11. 3-pointers: 4 (Elmhorst 2, Streveler 1, A. Underwood 1). Fouls: 20. Fouled out: A. Underwood. Record: