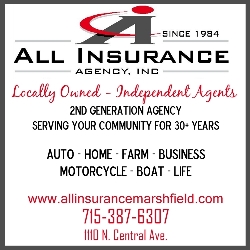 This story is sponsored by: All Insurance of Marshfield
By Steve Pilz
For MarshfieldAreaSports.com
MARSHFIELD – While Wild Rose and Marshfield Columbus Catholic did play the whole 36 minutes of regulation basketball Saturday night in its WIAA Division 5 regional championship game at Columbus High School, with the home team winning 74-54, the game was decided in about a minute and a half stretch late in the first half.
The Dons led 23-19 at the 6:30 mark of the first half before opening it up with a big flurry.
A Noah Hansen bucket gave the Dons a six-point lead. Jared Mandel, who had hit an earlier 3-pointer, hit his second with about 5½ minutes left in the half. Coach Joe Konieczny yelled in from the bench just before Mandel drilled his third triple the next trip up. On the third trip down, the Wildcats left Mandel open, albeit from 24 feet away, and the sharpshooting junior drilled his third straight from long range, forcing a Wild Rose timeout at the 4:59 mark as Columbus suddenly was up 34-19. Game over? Pretty much.
"When Mandel got hot like that, that's pretty hard to guard," Konieczny said. "Especially when you need to focus on (Nick) Malovrh too.
"I thought we were pretty tenacious defensively. Wild Rose is a really good team. Coach (Jim) Komp is as good as they come. Some of the sets they run are really good. Williams and Vandecastle are their top players, so we knew we had our hands full."
Mandel hit another later in the half, giving him five in the opening 18 minutes, and the Dons went to intermission up 15 at 43-28.
Noah Taylor got three quick buckets to start the second half and Hansen made three as well, while also going 6-for-8 from the charity stripe.
"Noah Hansen got it going to start the second half," Konieczny said. "Ethan Meece, Hansen, Taylor, Mandel, etc. Peyton Nystrom was just so scrappy. Bryce Fuerlinger went down with an ankle and we weren't sure what was going to happen. The kids played really hard and that made the difference against a really good team. I was just really proud of the boys. Our depth is hard to deal with when we play together like that."
The Dons put five guys in the scoring column with double figures led by Hansen's 18. Mandel had 15, Taylor 12, Malovrh 11 and Meece with 10.
The Dons face a familiar opponent Thursday at 7 p.m. in the sectional semifinal game at Wisconsin Rapids Lincoln High School when they take on Wisconsin Rapids Assumption (20-5). Columbus lost to the Royals 58-43 in the first game of the season for both teams at the Cranberry Classic on Nov. 24. That was just one of two losses for the Dons (23-2) this season.
Phelps (22-2) will play Green Bay NEW Lutheran (13-12) in the other sectional semifinal on Thursday at Oconto Falls, with the winners playing in the sectional final at Antigo on March 10. The Dons are looking for their second-straight trip to the state tournament, but Assumption stands in the way first.
"Assumption's good," Konieczny said. "Coach (Gary)Weisenbeck does a really good job. We'll have our hands full."
Dons 74, Wildcats 54
Wild Rose 28 26 – 54
Columbus Catholic 43 31 – 74
WILD ROSE (54): Alec Vandecastle 9, Colton Hanson 3, Tommy Friday 10, David Lauritzen 3, Caleb Williams 9, Travis Jansen 10, Jeremiah Churchville 7, Nick Wilbert 3. FG: 18-49. FT: 13-21. 3-pointers: 5-16 (Lauritzen 1, Cal. Williams 1, Friday 1, Jansen 1, Hanson 1). Turnovers: 11. Record: 17-8.
COLUMBUS CATHOLIC (74): Evan Dieringer 1, Peyton Nystrom 2, Nick Malovrh 11, Bryce Fuerlinger 5, Noah Taylor 12, Ethan Meece 10, Noah Hansen 18, Jarred Mandel 15. FG: 26-50. FT: 13-17. 3-pointers: 9-25 (Mandel 5, Meece 2, Fuerlinger 1, Malovrh 1). Turnovers: 12. Record: 23-2.