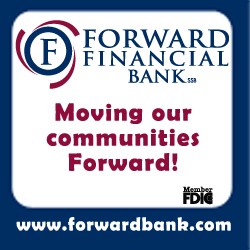 This story is sponsored by Forward Financial Bank
MarshfieldAreaSports.com
Click here for the all of the regional scores
Click here for the all of the sectional scores
GREEN BAY – The 2018 WIAA State Girls Basketball Tournament championship games were played Saturday, March 10, at the Resch Center, to complete the three-day event.
Bangor (25-3) won its second Division 5 title, to go along with one in 1997, with a 39-29 win over previously unbeaten Black Hawk.
In Division 4, La Crosse Aquinas (28-0) wrapped up a perfect season and its first state title with a 68-52 victory over previously undefeated Melrose-Mindoro.
Marshall (27-1) won the Division 3 championship with a 63-55 victory over Amherst. Marshall won its third state title in school history, to go with a pair more than 40 years ago as it won back-to-back in 1976 and 1977.
Beaver Dam (25-2) won its second-straight Division 2 title with a 51-41 victory over New Berlin Eisenhower.
Appleton North (24-4) repeated as Division 1 champions with a convincing 45-32 win over Mukwonago to wrap up the tournament.
Here is a look at the state tournament scores. Click the links for game statistics via wiaawi.org:
2018 WIAA State Girls Basketball Tournament
March 8-10, at Resch Center, Green Bay
Thursday, March 8
Division 3 semifinals
Marshall (26-1) 58, Wisconsin Dells (25-2) 47 Stats
Amherst (26-1) 45, Milwaukee St. Thomas More (21-6) 32 Stats
Division 4 semifinals
La Crosse Aquinas (27-0) 75, Crandon (22-3) 38 Stats
Melrose-Mindoro (27-0) 64, Manitowoc Lutheran (21-5) 30 Stats
Friday, March 9
Division 5 semifinals
Black Hawk (28-0) 57, Wausau Newman Catholic (21-7) 31 Stats
Bangor (24-3) 57, Clayton (24-4) 54 Stats
Division 2 semifinals
Beaver Dam (24-2) 54, Hortonville (20-7) 43 Stats
New Berlin Eisenhower (24-3) 67, Monroe (24-3) 63 Stats
Division 1 semifinals
Appleton North (23-4) 52, Hartland Arrowhead (24-3) 38 Stats
Mukwonago (25-2) 58, Oak Creek (24-3) 48 Stats
Saturday, March 10
Championship games
Division 5: Bangor (25-3) 39, Black Hawk (28-1) 29 Stats
Division 4: La Crosse Aquinas (28-0) 68, Melrose-Mindoro (27-1) 52 Stats
Division 3: Marshall (27-1) 63, Amherst (26-2) 55 Stats
Division 2: Beaver Dam (25-2) 51, New Berlin Eisenhower (24-4) 41 Stats
Division 1: Appleton North (24-4) 45, Mukwonago (25-3) 32 Stats