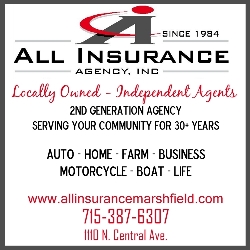 This story is sponsored by: All Insurance of Marshfield
By Paul Lecker
MarshfieldAreaSports.com
WAUSAU – There is an old cliché in basketball that it's hard to beat a team three times in a season.
When conference rivals collide in the postseason, that saying will come up, and it did when Marshfield and Merrill met in a WIAA Division 2 boys basketball sectional semifinal Thursday night at Wausau East High School.
The Tigers beat Merrill twice during the Wisconsin Valley Conference season, and although they led for all but the first 3 minutes and 17 seconds of the game, it was never easy for Marshfield to grab its third win over the Bluejays in the 2017-18 season.
Three 3-pointers by Reed Miller in the opening 11½ minutes pushed Marshfield to an early double-digit lead and the Tigers held off a number of runs from Merrill to win the sectional game 64-59.
Marshfield (14-11) moves into a D-2 sectional final against La Crosse Central (23-2) on Saturday at 1 p.m. at Stevens Point Area Senior High. Central, the defending Division 2 state champion and No. 1-ranked team in the state, defeated Marshfield 71-40 back on Dec. 5 after rushing out to a 42-7 lead by halftime.
With just one full day to prepare, Marshfield coach Scott Scheuer said the Tigers will have to be focused on what they do, and can do, against Central as they search for the program's first trip to the WIAA state tournament since 1994.
"I told them, 'We don't have to beat them more than once,'" Scheuer said. "They're really good. We can't really do anything different. Hopefully we're better, we're tougher. They are going to come at us with a lot of pressure."
Merrill scored the first basket of the game before Brant Bohman drilled a 3-pointer at the 14:43 mark to put Marshfield on top. It would never trail again.
Seth Anderson followed with a hoop and Miller nailed another 3 to make it 8-2.
After Merrill cut it to one, Miller's second 3-pointer capped a 9-0 run, and Miller swished another 3 moments later to put Marshfield on top 20-10 with 6½ minutes to go in the first half.
"Reed's a great shooter, and our whole team is a great shooting team," Anderson said. "It just helps my offensive game, along with everyone else's offensive game."
A 3-pointer play by Quinn Steckbauer again brought Merrill to within two before Marshfield countered. Bohman hit a 3-pointer and Anderson scored to help the Tigers take a 27-23 lead into halftime.
Marshfield's lead ranged between two and seven points throughouth the opening 10 minutes of the second half.
After a drought of nearly four minutes with only one point scored and Merrill chewing at the Tigers' heels down 38-35, Marshfield called a timeout and came back refreshed and refocused.
The Tigers scored on their next seven possessions. Anderson and Issac Meverden hit 3-pointers, and Bohman and Anderson both made a pair of free throws to give Marshfield a 54-41 lead.
Merrill had one more push left in them. A three-point play by Steckbauer and a 3-pointer from Zach Mootz cut the Tigers' led to 56-51 with 1:35 to go, and the Bluejays got to within four after another 3-pointer from Michael Casper with 36 seconds left, but Anderson made four free throws in the final 34.5 seconds to ice the win for Marshfield.
"It was such a grind," Scheuer said. "The further you get in (to the playoffs), not only the tougher the competition, but the preparation (is tough). They know what you are going to do. (Miller) had a big stretch there to pull us back up and give us some confidence."
Anderson broke a 50-year-old school record on Thursday. With his game-high 22 points, the 6-foot-5 senior now has 556 points this season, the most ever in a single season by a Tigers player. He surpassed the record of 540 points held by Bill Rhyner set in the 1967-68 season. He stands in 10th place on the team's all-time scoring list with 787 points.
"I don't want to say it was unexpected just because I dedicate so much time and I work so hard, but it kind of just happened," Anderson said of the record. "I wasn't really expecting it. I just wanted to play my hardest and give everything I've got."
Bohman had 18 points and Miller finished with 17 points in the victory for Marshfield.
Steckbauer had 16 and Mootz 14 for Merrill, which finishes the season 16-9.
Tigers 64, Bluejays 59
Merrill 23 36 – 59
Marshfield 29 35 – 64
MERRILL (59): Kade Bonnell 1-1 0-0 2, Quinn Steckbauer 6-15 3-4 16, Zach Mootz 4-10 2-4 14, Nate Grefe 0-0 0-0 0, Michael Casper 2-5 2-2 8, Chase Bonnell 3-5 1-2 9, Jared Ollhoff 5-8 0-1 10, Caleb Timm 0-1 0-0 0, Kordell Renken 0-2 0-0 0. FG: 21-47. FT: 8-13. 3-pointers: 9-22 (Mootz 4-9, Bonnell 2-2, Casper 2-5, Steckbauer 1-3, Renken 0-1, Ollhoff 0-2). Rebounds: 23 (Mootz 5). Turnovers: 4. Fouls: 15. Fouled out: none. Record: 16-9.
MARSHFIELD (64): Issac Meverden 2-3 0-1 5, Brant Bohman 6-13 3-4 18, Tommy Olson 0-0 0-0 0, Reed Miller 5-11 4-4 17, Seth Anderson 7-14 6-7 22, Anthony Posteluk 1-2 0-0 2, John Reigel 0-0 0-0 0, Grant Urban 0-0 0-0 0. FG: 21-43. FT: 13-16. 3-pointers: 9-16 (Miller 3-5, Bohman 3-6, Anderson 2-3, Meverden 1-1, Posteluk 0-1). Rebounds: 30 (Anderson 8). Turnovers: 7. Fouls: 15. Fouled out: none. Record: 14-11.