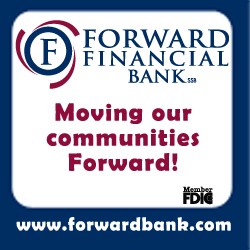 This story is sponsored by Forward Financial Bank
MarshfieldAreaSports.com
ANTIGO – Marshfield Columbus Catholic's bid for a second-straight state tournament appearance came up one basket short as the Dons dropped a WIAA Division 5 boys basketball sectional final to Green Bay N.E.W. Lutheran 57-56 on Saturday afternoon at Antigo High School.
The Dons trailed for most of the game, but was always within striking distance as N.E.W. Lutheran couldn't pull away.
The Blazers pulled ahead by four late before Nick Malovrh hit a 3-pointer in the final seconds to finish the scoring.
Columbus Catholic, which won its third-straight Cloverbelt Conference East Division title, ends this season with a 24-3 record.
Malovrh finished with 18 points and Jarred Mandel added 16 in the loss for the Dons.
Green Bay N.E.W. Lutheran (15-12) advances to the WIAA State Boys Basketball Tournament for the seventh time in the last nine seasons. The Blazers will play Bangor (25-1) in a Division 5 semifinal at 9 a.m. on Friday, March 16.
Blazers 57, Dons 56
Green Bay NEW Lutheran 31 26 – 57
Columbus Catholic 27 29 – 56
GREEN BAY NEW LUTHERAN (57): Jacob Champeau 6, Bennett Reisler 2, Lucas Bukowski 18, Samuel Meerstein 17, Chip Kindt 5, Marshal Bukowski 9. Record: 15-12.
COLUMBUS CATHOLIC (56): Evan Dieringer 0, Peyton Nystrom 0, Nick Malovrh 18, Bryce Fuerlinger 6, Noah Taylor 10, Ethan Meece 4, Noah Hansen 2, Jarred Mandel 16. Record: 24-3.