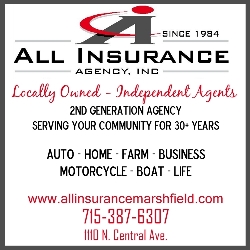 This story is sponsored by: All Insurance of Marshfield
MarshfieldAreaSports.com
MARSHFIELD – A total of 30 children from kindergarten through sixth grade participated in the inaugural Great Pumpkin Run on Thursday at Braem Park.
The run was sponsored by the Marshfield Middle School and Marshfield High School cross country teams.
The group of runners ran a one-mile course through Braem Park on Thursday afternoon.